​

In December of 2010 Dylan received the Examiner Award at the Charlotte Music Awards.

Dylan's touring band morphed into the ecstatically possessed post-punk trio

Hectorina

in 2012.

​​Hectorina has since released 2 EPs, a split 7'' record, and 3 full-length albums. Their 4th album,

Muck

, is to be released later this year.

Dylan Gilbert is a musician living in Charlotte, North Carolina.

Dylan's artistic impulse was nurtured in childhood by musician parents. He was a prolific songwriter in youth, releasing 6 solo albums, three full-length LPs (with punk band Something Jed) and scoring several independent films before age 24.

​

While recording and touring extensively, Dylan pursued an education in music theory, classical guitar, and musical therapy. Well acclimated to the stage, he has performed over 800 times across the US with appearances at the Hopscotch Music Festival and CMJ Music Marathon

.
| | |
| --- | --- |
| | ​​In 2015, Hectorina joined notable performers Caitlyn Swett (Triptych Collective), Mike Gentry (Mall Goth), Chris O'Neill (Shakespeare Carolina) and set designer Jon Prichard (Sinergismo) to produce their rock opera Collywobble as a full-stage show. Collywobble opened during Hectorina's month-long residency at Charlotte music venue Snug Harbor, with later performances at Don't Sweat it Fest (Rock Hill, SC) and the Indie Grits Film Festival (Columbia, SC). |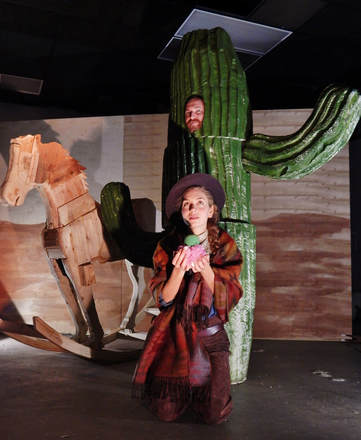 Last year Gilbert released his 9th solo album, I See You There, Indigo, and began an artist residency at Goodyear Arts Collective in Charlotte. While at Goodyear, Dylan built The Forest, an interactive sound installation dressed like a whimsical thicket. Simultaneously, he collaborated with Jon Prichard, Todd Stewart and contemporary theater collective XOXO writing, acting, and handling sound design for the fevered zen-acid western production All the Dogs and Horses.

The Forest had a limited opening along with a work-in-progress performance of All the Dogs and Horses on December 16th 2016. By April 2017, All the Dogs and Horses' fresh incarnation was executed at the Charlotte BOOM festival for a sold-out audience.

​​Dylan is currently lending his talents as a guest editor for the submission-based sound podcast Mystery Meat as well as composing for independent film company Basic Cable.
---
"Dylan is a musical tour de force."

- Creative Loafing (2017)

"[Hectorina is] one of Charlotte's best bands ... These are the guys you should be paying attention to."
- Jeff Hahne (2016)

"Charlotte's true gem in the indie scene"
​- Creative Loafing (2009)

"The hardest-working musician in North Carolina"




​- The Salisbury Post (2008)

"Pure song-writing genius."
- Josh Hogan/Independent Clauses (2006)